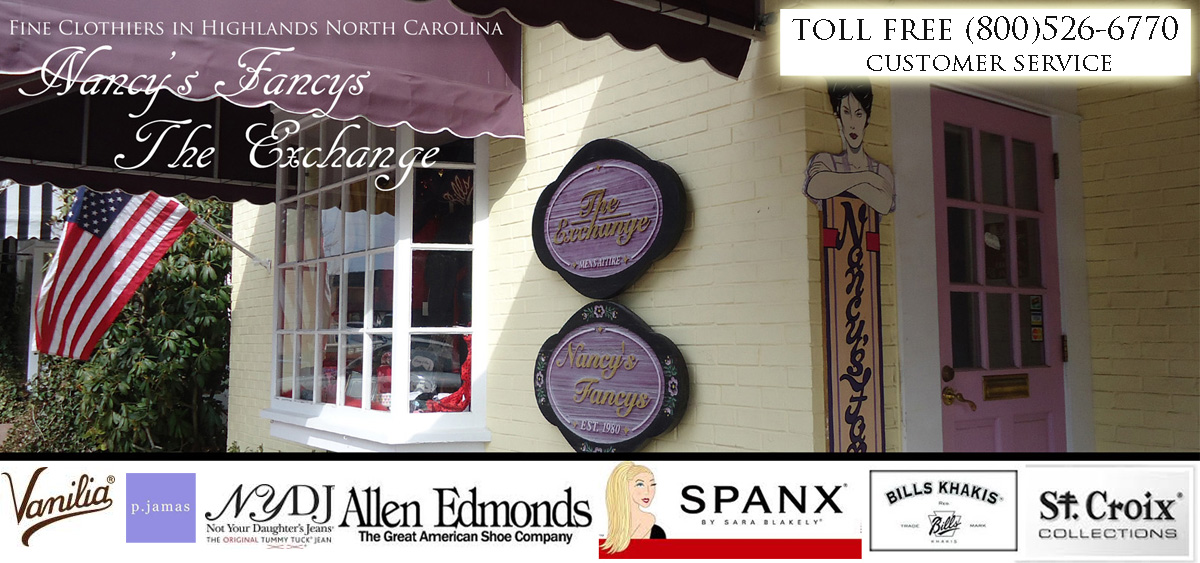 Welcome to Nancy's Fancy's & The Exchange For Men
Contact Nancy's Fancys and The Exchange for Men
---
Street Address: 322 Main Street, Highlands, NC 28741
Mailing Address: Post Office Box 1328, Highlands, NC 28741
---
Phone Contacts:
Toll Free (800) 526-6770
Landline for Nancy's Fancys (828) 526-5029
Landline for The Exchange for Men (828) 526-1029
---
Email Contact:
Shipping and Returns Policy
Shipping
Nancy's Fancys and The Exchange processes and ships all orders within two business days when items are in stock. Notification will be sent via email if an item is out-of-stock.
All orders are shipped UPS for standard ground delivery which is usually 2-3 day service to most domestic destinations. At this time, we do not accept international orders.
Returns
A return authorization must be obtained before any returns are sent back to store. Merchandise must be returned within 15 days of invoice for credit. The original invoice must accompany the shipment. Shipment must be sent prepaid or it will be refused. Merchandise must be in original condition with all tags intact and must be able to be resold (i.e. NOT WORN OR WASHED). We only sell first quality merchandise and expect returns to be the same. If returned merchandise is found to be worn, NO CREDIT will be issued.
Exchanges
Merchandise may be exchanged within 15 days of invoice date if the merchandise has NOT been worn or washed and is in the original condition with all tags intact. We will exchange and reship your order. A reshipment charge of $19.00 will be applied to orders that are exchanged. Please include your invoice.